If you ever played online slots, you surely know the terminology. There's one term, however, that most players find confusing – variance. In reality, though, it's pretty simple.
Slot variance can be either low, medium, or high. It indicates the game's risk and describes how often you might expect wins to land during your sessions. Some video slots hand out wins occasionally, but they are on the high side. These games can also shell out several big wins in a short period. These are called high variance (or volatility) slots.
Higher Volatility – Higher Risk
Not surprisingly, the high variance means a higher risk of playing these games. In these games, you can expect to hit the Spin button to no avail for a longer period. You might eventually win big, but not many players have the patience to wait that long.
High variance slots are often thought as of being for high-rollers only. While they might be aimed at players who have cash to spend, patient casual players will find them a lot of fun. After all, waiting for a win is worth it if it pays 500 times your stake.
Not for the Faint of Heart
We wouldn't recommend high variance slots to anyone who doesn't have the bankroll or patience on their hands. Hitting a big win in the games listed below will likely take some time which means you should be prepared to see your budget burn. Chasing a big win will likely cost you a lot of cash, but the thrill is simply incomparable to anything else.
Don't confuse a slot's variance for its RTP – they are not the same but are closely related. Many of the most popular high volatility slots you can see below will have a RTP lower than the industry standard of 96%. The higher the risk factor of a slot, the lower the RTP.
That being said, this is not a rule. As you'll see from the second list, you can still find high volatility slots with sky-high RTP as well.
List of the Most Popular High Variance Slots
Stallion Strike by Ash Gaming, RTP: 92.29% – win over 200 times your stake across 15,265 paylines in Ash Gaming's popular slot.
Book of Dead by Play'n Go, RTP: 94.25 – find the Book of Dead and unearth legendary rewards in Play'n Go's hit slot machine.
Buffalo Blitz by Playtech, RTP: 95.96% – win cash prizes across 4,096 betways in Playtech's classic.
Book of Kings by Rarestone Gaming, RTP: 96.63% – Rarestone Gaming's Book of Dead clone gives you a chance to win a prize worth 200 times your stake.
Midnight Wilds by Playtech Origins, RTP: 95% – with 243 betways and a max. prize of 5,500 times your stake, Midnight Wilds is an excellent game for Playtech fans.
Tsai Shen's Gift by Rarestone Gaming, RTP: 96.5% – earn Tsai Chen's Fire Blaze jackpot hit in one of Rarestone Gaming's biggest hits ever.
Hainan Ice by Rarestone Gaming, RTP: 96.5% – cool yourself with sweet exotic fruits and 10x multipliers in this extremely popular slot.
Kingdoms Rise: Sands of Fury, RTP: 96.26% – see kingdoms rise from the sands and unearth ancient fortunes in Playtech Origins' Kingdoms Rise: Sands of Fury.
Age of the Gods: Rulers of Olympus by Playtech Origins, RTP: 94.06% – take a side in the power fight between Zeus and Hera in Playtech's massive hit.
John Hunter and the Book of Tut by Pragmatic Play, RTP: 96.5% – find the famed Book of Tut in Pragmatic Play's highly volatile and rewarding slot.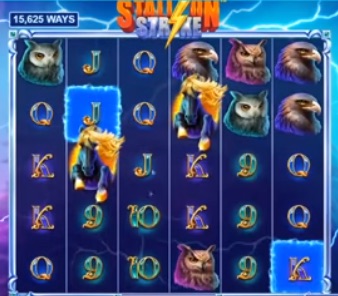 List of the Highest Paying High Variance Slots
Legend of the 9 Suns by Leander Games, RTP: 98.98% – learn the way of the ancient Samurai in Leander Games' stunningly high RTP slot.
Jackpot 6000 by NetEnt, RTP: 98.9% – NetEnt's highly volatile hit loves you 6000 with a prize worth 6,000 times your stake.
Kings of Chicago by NetEnt, RTP: 97.8% – walk in the shoes of Chicago crime kings to win big in NetEnt's classic.
Wolfpack Pays by NextGen, RTP: 97.76% – run with the wolfpack and win in 243 ways in NextGen's high variance slot machine.
White Rabbit by NextGen, RTP: 97.72% – follow the white rabbit to mysterious treasures in NextGen's popular slot with a max prize worth 10,000 times your stake.
Medusa Megaways by NextGen, RTP: 97.63% – avoid Medusa's death stare and find the gold prize (50,000x your bet) in NextGen's popular video slot.
Sugar Pop by Betsoft, RTP: 97.6% – make those candies pop and enjoy Betsoft sweet 1-payline slot.
T-Rex by Real Time Gaming, RTP: 97.5% – win dinosaur-shaped rewards in Real Time Gaming's ageless classic.
Rudolph's Revenge by Real Time Gaming, RTP: 97.5% – feel the wrath of Rudolph and win Santa's bag of prizes in RTG's popular slot machine.
Penguin Power by Real Time Gaming, RTP: 97.5% – let the penguins roll and bring you cash rewards in Real Time Gaming's slot with sky-high RTP.
Conclusion
Personal preference is obviously important when choosing a slot. However, your bankroll is just as important. If you have money to spare, you should definitely go for high variance slots. They are riskier, of course, but offer prizes well beyond your imagination.
Many players won't even touch a slot if it's not of high variance. If you want the true slot experience and expect to land huge wins, high volatility slots are the way to go.