Return to Player percentages or RTPs are important when it comes to making money over time with online slots. While a lot of people play these games purely for the enjoyment aspect of them, others like to make some decent cash while doing so.
The higher the RTP value is, the greater the chance of you winning will be. This value balances out the short term variance to give you an independently measured assessment of the RTP over the long run.
Therefore common sense dictates that you should be playing the games that offer the highest RTP as possible. Obviously no game is going to have a RTP of 100% or else the house will not have an edge.
Any RTP higher than 98.5% is pretty unbelievable whereas the 98% range is superb. Anything around 94-95% is generally acceptable.
Therefore you should be more than happy with the couple of dozen slots that have an RTP of 98% as that is really the best that you can possibly expect to get or else the casinos will be bankrupt within days of launching a close to 100% RTP game.
If you're still looking for that ONE US friendly Betsoft casino that has it all: great bonuses, software, support and high paying Betsoft slots you should look no further and sign up at TrueFortune here.
| | |
| --- | --- |
| Good Girl Bad Girl | 97,79 % |
| Who Spun it? | 97,64 % |
| Gypsy Rose | 97,63 % |
| SugarPop | 97,60 % |
| Quest to the West | 97,53 % |
| Safari Sam | 97,50 % |
| Sushi Bar | 97,48 % |
| At the Copa | 97,42 % |
| After Night Falls | 97,27 % |
| Puppy Love | 97,23 % |
| Greedy Goblins | 97,20 % |
| Dim Sum Prize | 97,18 % |
| The Tipsy Tourist | 97,10 % |
| The Angler | 97,10 % |
| Back to Venus | 97,07 % |
| Monster Pop | 97,07 % |
| True Sheriff | 97,03 % |
| Back in Time | 97,00 % |
| Miles Bellhouse and the Gears of Time | 96,98 % |
| The Hive | 96,97 % |
| Diamond Dreams | 97,00 % |
| Hidden Loot | 97,00 % |
| A Night in Paris | 96,92 % |
| Slots Angels | 96,89 % |
The bad news is that there are lots of Betsoft Casinos with very, very few Betsoft slots. So you can't just sign up everywhere you see the Betsoft logo at the casino homepage… There is one casino we can highly recommend and that have a high percentage of the best paying Betsoft slots: Casoo Casino. There you'll also enjoy a nice 25x wagering requirement bonus which is very low. And keeping in mind the high RTPs of some Betsoft slots it's a no brainer. Click here to get started!
If you look at the top 20 Betsoft slots you will notice that there is no slot that offers an astronomically high RTP. Rather, even the top RTPs are "only" in the 97.8% range. That's good but there are better ones. So if you are looking for a slot that really pays out the maximum possible amount, Betsoft might not be the best choice for you.
But the offer in the 97% range is very good and the quality is right in any case. Some of these slots are even in the well known 3D quality. Many are very popular since a couple of years like Good Girl, Bad Girl – which is one of the top Betsoft slots and also offers the highest payout.
Betsoft is therefore a good choice for all players who don't want to make any compromises in quality and also want to play with high RTPs on a high quality slot. It's true that there aren't those high payout slots, but that's absolutely fine. But the offer in the middle to low 97% range is simply extremely good.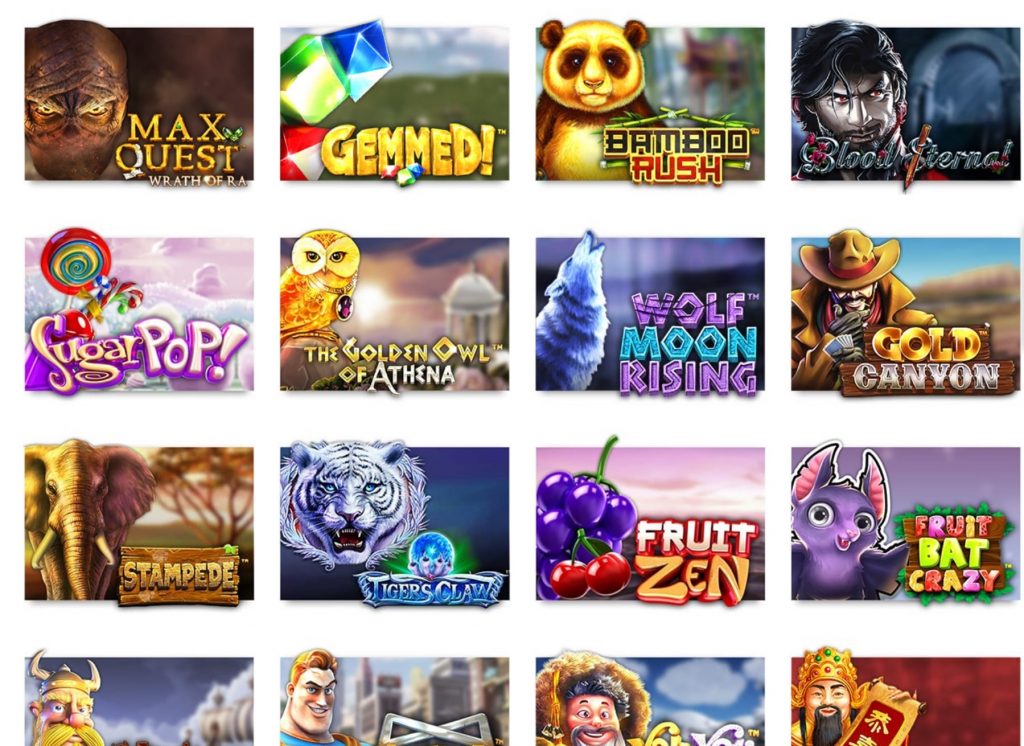 There is a total of 12 Betsoft slots machine that fit into this category and they are: Gypsy Rose, Good Girl/Bad Girl, WhoSpunIt? PLUS, Sugar Pop PLUS, Safari Sam, Sushi Bar, At The Copa, After Night Falls, Puppy Love PLUS1–*, Greedy Goblins, The Tipsy Tourist, The True Sheriff.
Here is a closer look at one of these games:
The Good Girl, Bad Girl progressive slot consists of 5 reels, 3 lines and 15 paylines. Even for the modern standard most video slots have, Good Girl, Bad Girl is exceptional with its 3D graphics and Good Girl and Bad Girl floating on both sides of the reels.You can play the game in two different versions, depending on whether you choose the Good Girl or the Bad Girl. The symbols are a mixture of good and bad clichés with cats, a full moon, a ring, the good girl all in white and the devil in an appealing leather outfit. Every time there is a win, the symbols are animated and far more skillful than many other software manufacturers do. In the background you can hear either the laughter of the Bad Girl or the Yes of the Good Girl.
The online slot game Gypsy Rose is dedicated to a gypsy who can tell the future. The slot machine is offered by BetSoft and briefly introduced here. The slot machine can be played free of charge without registration.The slot game Gypsy Rose is the 5-reel 3D slot machine with 15 icons on the screen. There are 30 paylines available. You can activate these lines independently because they are not fixed. The bet you can set is from 0.02 to 5 for one payline. The maximum bet of the game is 150.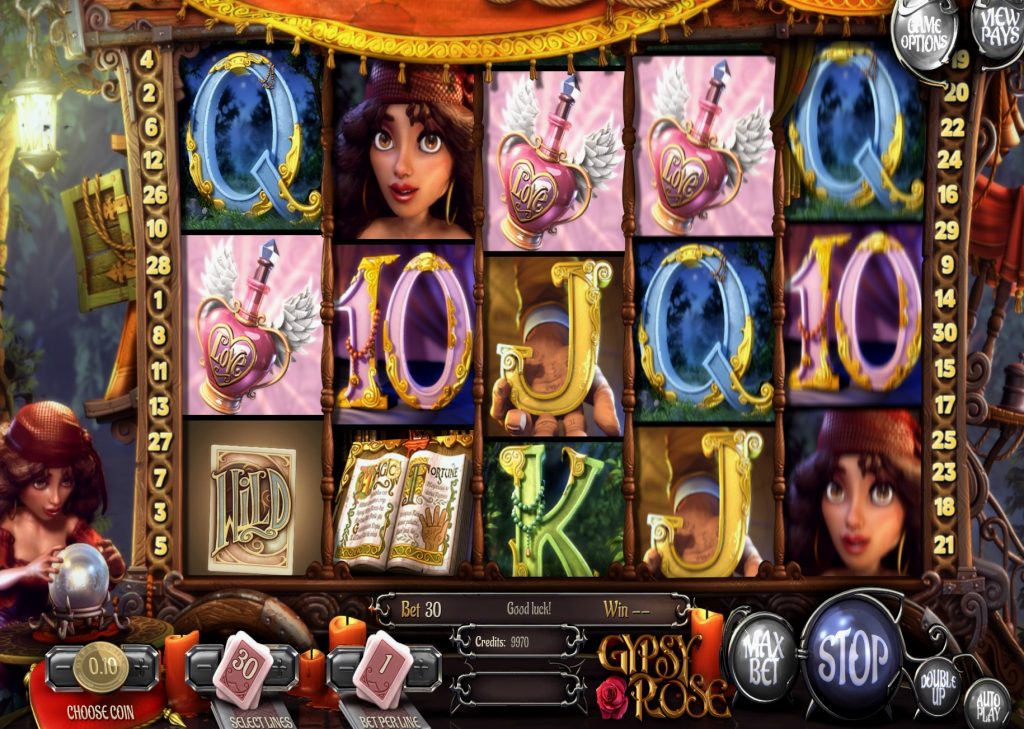 Greedy Goblins is a game that allows you to get up to all sorts of mischief with thanks to the great 3D graphics and enticing gameplay features.Betsoft are known for putting a lot of effort into their titles and this game is no exception. It is a video slot that has a low variance and it allows you to consistently play this over time without exposing yourself too much to a downside risk.
The main aim of this game is to entertain the player and once you don't have an issue with bonus features and reels that is a tad slow; this will be a great game for you to play.
There are many different bonus games incorporated into this title and it has a progressive jackpot and free spins that allow you to win up to a total of 12,000 coins.
This means you get the best of both worlds as the slow and steady wins over time are accentuated by the chance to sporadically win substantially.You will be surprised at how long you will be able to play Greedy Goblins without getting bored.
Players who like beautifully designed games which take them on remarkable African safari adventures will definitely enjoy Safari Sam. In fact, the game is a true delight packed with 5 reels and 30 paylines. Besides being beautifully rendered packed with all sorts of Africa-themed symbols and visuals, the game also features random wild symbols, free spins as well as stacked collapsing winnings, gamble mode for doubled winnings and simple pick me bonus mode with instant winnings.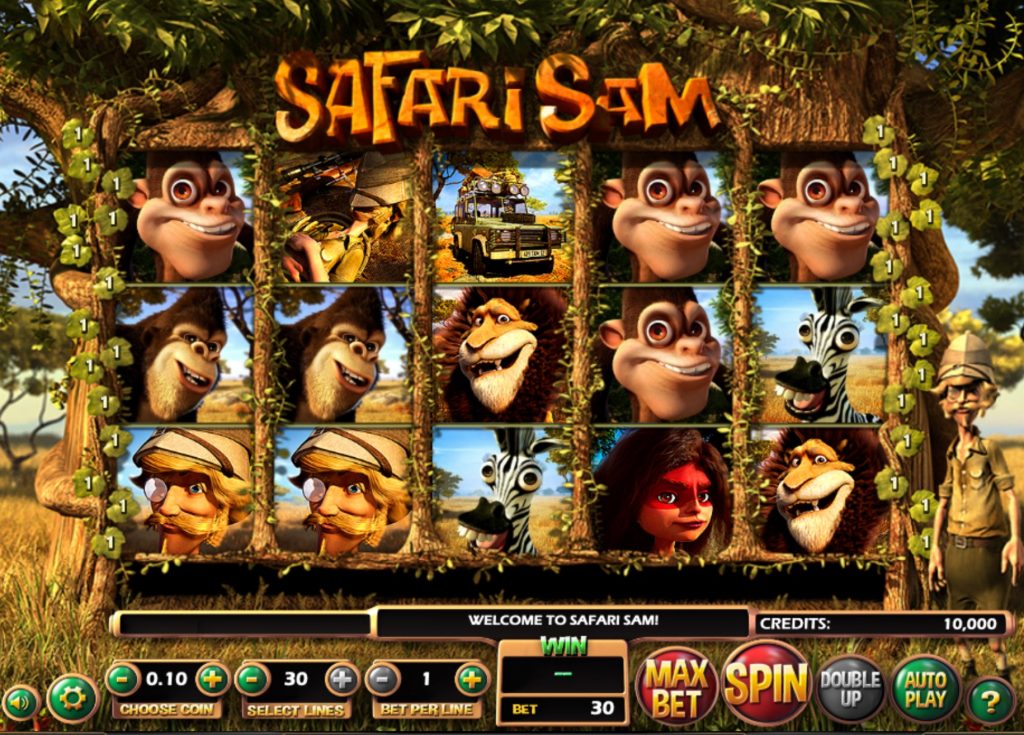 With the Tipsy Tourist game powered by the BetSoft software, players can take some time off from their work and hop on a journey leading to Miami. In the game, players take the role on an office worker who will scoop some awesome winnings thanks to the game's free spins, clingy wilds, and wild beach symbols. There is also an interesting drinking mini-bonus game. The game is packed with 5 reels +, 20 paylines and maximum winnings of 130,000 coins.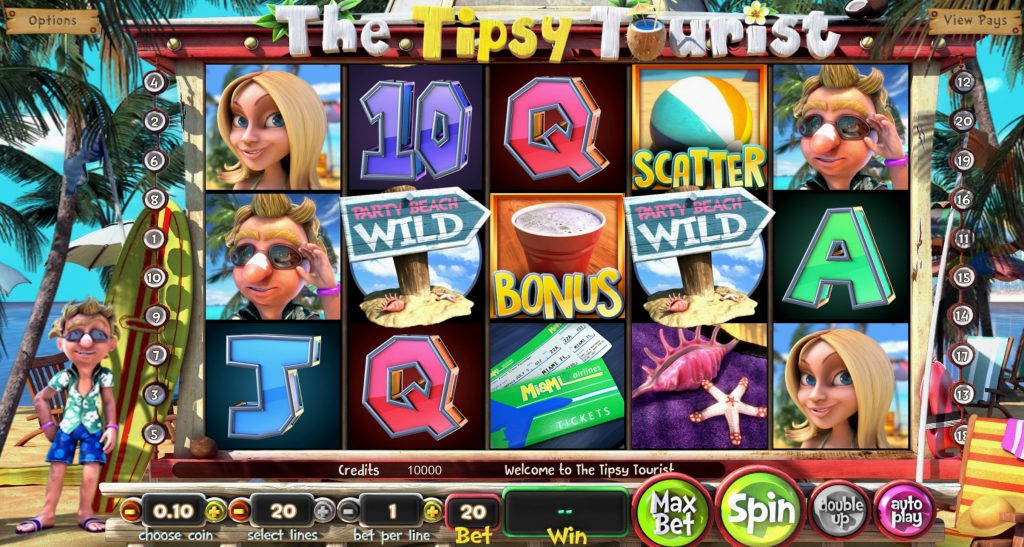 A Night in Paris is another extraordinary BetSoft release packed with amazing 3D graphics and visuals. As suggested by the game's name, here players take a tour of Paris at night. Here, players can score generous winnings across 5 reels and 30 paylines as offered in the game. Apart from looking great, A Night in Paris can also yield impressive winnings thanks to its free spins mode and awesome instant winnings feature. With this bonus feature, players can win maximum winnings of 954,00 coins.
LeoVegas
If you want a reputable online casino, you register with LeoVegas. One of the biggest brands in online gaming, LeoVegas offers thousands of games from the industry's biggest providers. The list includes Betsoft and its latest and greatest titles you can play for free or splash the cash on.
Try Take the Bank or Sugar Pop II for great chances to win big and fun gameplay you won't get elsewhere.
VideoSlots Casino
A popular casino with 4,299 games and counting, VideoSlots is a true heaven for spinners. Slot fans get to enjoy the latest and greatest classics and modern video slots from the industry's top providers such as Betsoft.
Claim one of VideoSlots' bonuses to play games such as Chilli Pop and Gold Canyon for free. Or splash the cash and try to win big – the special features in Betsoft's games are pretty rewarding.
SlotsMillion
It might not feature a million slots like the name suggests, but the SlotsMillions casino still has nearly 4,000 games in its lobby. Provided by industry leaders such as NetEnt and Betsoft among others, it's the place to be if you want to have some fun and possibly win big.
Give the greatest Betsoft hits such as Max Quest Wrath of Ra and The Tipsy Tourist a try for real money and you can reel in a nice catch. Or play the slots for free – we won't judge you for having some fun.
Which Betsoft slot machines have the highest RTPs?
You can find the complete list on ProfessorSlot. But here are the top 10 slot machines with the highest RTPs, all over 97%:
Good Girl Bad Girl, Who Spun it, Gypsy Rose, SugarPop, Safari Sam, Sushi Bar, At the Copa, After Night Falls, Puppy Love, Greedy Goblins.
What are the best Betsoft slot machines with good payout?
Something that makes Betsoft special is the fact that many of the most popular slot machines are also high RTP ones at the same time. Except maybe Blood Eternal which is very popular but only has an RTP of 95%.

The top 5 Betsoft slot machines with good RTP are:
Good Girl Bad Girl
Gypsy Rose
Sugar Pop
Safari Sam
Greedy Goblins
What makes Betsoft so special?
It is above all the graphics that stands out and can therefore also create a very special atmosphere. Betsoft was basically the first manufacturer to try its hand at 3D slot machines, and with great success. It's not like the machines are like a visit to a 3D cinema, but you can see a clear difference.
What's the RTP of popular Betsoft slots?
The RTP of the currently most popular Betsoft slot machines is:
Take the Bank: 96,08%, Fruit Zen: 95,96%, Gold Canyon: 96,13%, SugarPop 2: 96,46%, Spinfinity Man: 95,8%, Stampede: 95,27%
What does RTP mean in gambling?
RTP stands for the Return To Player, and it is a theoretical and statistical measure of how much a slot pays back over time to players who have participated in betting on it. It is different to house edge, as it describes the difference between how much you can expect to win after winning £100 on a machine and how much you expect to win after winning £200 on the same machine. The house edge is not the same as 'return to player percentage', as the former is calculated over many thousands spins and the latter is based on a single spin.
If you're a seasoned casino player, you might know that 'house' isn't the only way to describe a slot's odds. Sometimes, you might see words like 'losses to player' mentioned as well. Essentially, the loss to player is the amount a player's wager puts back down on the machine, while the wins to player is the amount a player gets back over a predetermined time period. This is why RTP is important: it's an indication of how much you can expect to win after a certain amount of spins.
Slot games have a range of RTP values. The higher the RTP, the more often you can win and the more you can win in a single spin. A high RTP is usually useful for players who need to grind for wins quickly, but less useful for players who will never win so much as a few pennies on a spin. The lower the RTP, the more often you can win and the more often you can win in a single spin.
Games with a low RTP are popular among slot players who have invested time and money in their slot machines. These machines usually offer a good mix of gambling possibilities and a good return to player. This is great for players who play slots for fun but who want a return on their investment. However, players with time to invest in slots will find those with lower RTP less appealing as they can never expect to win as much as the higher RTP slots.
Latest update on: 12. February, 2021