Zombies are everywhere around us these days. Well, not literally, but in pop culture. The influx of zombie-themed TV shows, movies, and video games has helped this horror genre shoot to the top of the list of most popular themes. From The Walking Dead comics and TV show to the dozens of indie zombie movies, zombies haven't been so popular since George Romero's Dawn of the Living Dead back in the 1970s.
Although most of the media is focused on the horror and survival aspects, many blend the genre with a bit of humor to excellent results. The online gaming industry, especially the slot sector, has not stayed immune to the zombie viral outbreak. Literally hundreds of slots each year are dedicated to the horror genre and some of them are quite good.
Slots Faster than Zombies
Most major slot developers these days are heavily invested in the zombie horror genre. Microgaming, for example, has released dozens of zombie slots so far, and others have followed suit. All the zombie slots are not nearly as slow as the antagonists themselves. As a matter of fact, some play at a pretty fast rate and shell out amazing prizes.
Many of the best zombies-themed slots offer rewards worth your time and money. Of course, you can also try the majority for free. There's nothing wrong in having some fun with zombies, but if you want to win real big rewards, it's best to play with real money.
All the big zombies-themed slots are available in most online casinos. Make your pick carefully and head to the casino to start bashing zombie skulls in. Make sure to pay attention to the bonus the casino gives to newcomers – this is essentially free money to try zombie slots with.
Take a look at the lists below to see the most popular zombies-themed slots of all time.
List of the Most Popular Zombies-Themed Slots
Lost Vegas by Microgaming, RTP: 96% – play as either survivor or zombie in the fallen city of Vegas in Microgaming's zombie hit.
Zombie Hoard by Slingshot Studios, RTP: 95.29% – collect brains and feed the zombies to win big in Zombie Hoard by Slingshot.
Zombie Circus by Relax Gaming, RTP: 96.92% – get a ticket to see the freaks in the Zombie Circus in this stunning Relax Gaming slot.
Attack of the Zombies: London England by Genesis Gaming, RTP: 96.732% – fight the zombie plague in London in this popular Genesis slot machine.
Scatter Brains 2 by Playtech, RTP: 94.18% – kill zombies across 243 paylines to win big in Playtech's massive hit.
Resident Evil 6 by Skywind Group, RTP: 95.09% – revisit the zombie-infested streets of Lanshiang in Skywind Group's game based on the Capcom classic.
Golden Ghouls by Microgaming, RTP: / – link ghouls and zombies on the reels to win up to 250 times your stake in Microgaming's hit slot.
Zombie Rush by Leander Gaming, RTP: 94.89% – get your Zombie Rush on in Leander Gaming's high-paying slot.
Dawn of the Bread by Microgaming, RTP: 96% – bake nasty bread with the help of a zombie in Microgaming's classic hit.
Deadworld by 1×2 Gaming, RTP: 95% – see how a world infested by zombies might look like in 1×2 Gaming's horror slot.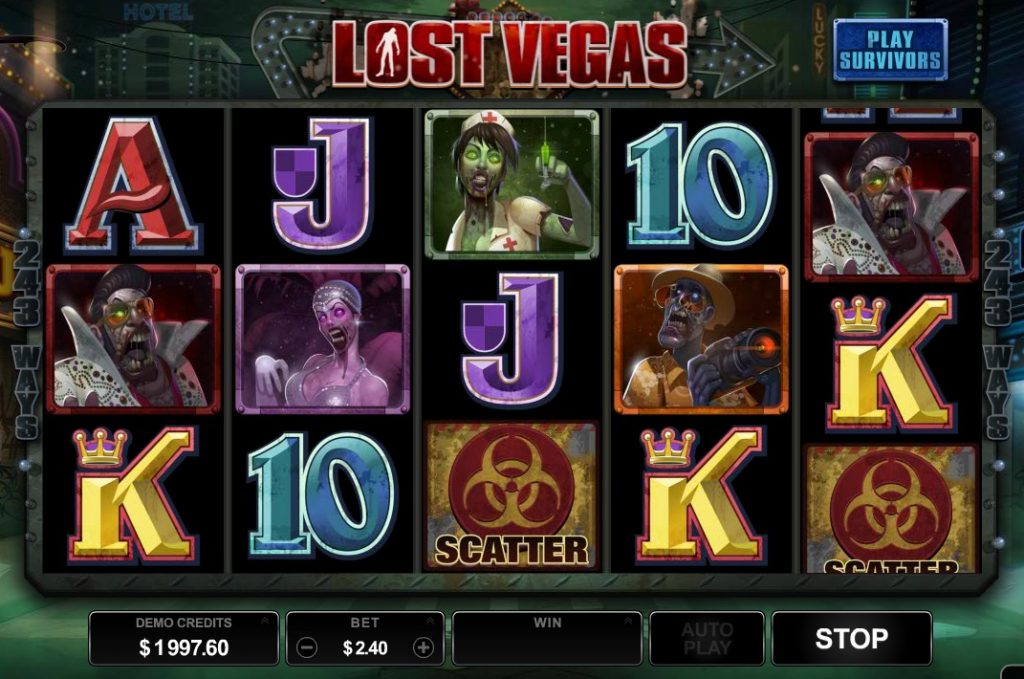 List of the Highest Paying Zombies-Themed Slots
Zombies by NetEnt, RTP: 97.2% – hold the zombies back and prevent a new plague in NetEnt's high-paying slot machine/
Zombie Slot Mania by Spinomenal, RTP: 97% – land cute zombies across the reels in Spinomenal's take on the zombie horror genre.
Zombie Circus by Relax Gaming, RTP: 96.92% – see all the zombie freaks in Relax Gaming's massively popular online slot.
Alaxe in Zombieland by Microgaming, RTP: 96.55% – visit Zombieland with Alaxe in this crazy take on Lewis Carroll's novel.
Fear the Zombies by Fugaso, RTP: 96.38% – conquer your fear of zombies in Fugaso's take on the walking dead.
Attack of the Zombies: London England by Genesis Gaming, RTP: 96.372% – hold your ground against crazy zombies in one of Genesis Gaming's biggest hits.
Lost Vegas by Microgaming, RTP: 96% – reclaim the lost city of Vegas by killing zombies in Microgaming's hit slot machine.
Dawn of the Bread by Microgaming, RTP: 96% – what's on the menu today? How about a slice of zombie bread?
Evil Genotype by Fugaso, RTP: 96% – kill zombies and save the world in Fugaso 3D zombies-themed slot.
The Dead Escape by Habanero Gaming, RTP: 95.92% – don't let the dead escape in Habanero's exciting slot.
Conclusion
The zombie horror genre is here to stay. Thanks to developers always finding new ways to spice things up, we'll be fighting waves of zombies for a long time to come. In online slots, of course.
Zombie slots are highly exciting. Some give you the chance to slay zombies and save the world from the plague while others pull the comedy thread and keep things fun. One notable example is Microgaming's aforementioned Dawn of the Bread.
The zombie horror genre has thousands of fans who enjoy the blood and guts splattered across the screen. Sure, it might gross out some people, but the zombie genre is stronger than ever. As soon as zombies appeared on the big and small screens, it was only a matter of time before we saw them on slots. Not did only zombies enter the slots industry, they carved out a niche for themselves and now crave more than just brains.
With many zombies-themed slots going over the 96% industry-standard mark, it's time to pick up a hatchet or a gun, head to your favourite online casino, and send the zombies to hell.